Do you want to share photos, videos or documents with friends or colleagues, but can't find a quick and easy way to do it? Or perhaps you're sick of carrying around your laptop or a USB drive just to get easy access to your files?
If that sounds like you, then a Cloud Storage service that focuses on top-notch file sharing might be exactly what you're looking for. Unlike conventional online backup providers that mostly concern themselves with security and unlimited storage space, companies that specialise in file sharing are all about easy access, drag and drop uploads and, of course, quick and reliable ways to let other people read and edit your files.
So, if you're looking for an easy way to send files back and forth, read on for our list of the 5 best backups for file sharing!
5 Best Backups for File Sharing Summary
5/5
PROS
Very easy to use
Simple processes
Quick and easy file sharing
Good free plan
CONS
Very limited security
Paid plans are fairly expensive
When most people think of file sharing, they immediately think of Dropbox – and we can totally see why. As well as being one of the most recognisable names in the industry, their software is incredibly easy to use, with a comprehensive free plan and plenty of options for use.
File sharing can only be done from Dropbox's webpage, but it's very prominently featured, and only takes a couple of clicks. You can give other Dropbox users permission to edit folders, or generate a read-only link for anyone to use. While free users can't do much to customise their file sharing options, Pro subscribers can add expiration dates to their links, and also opt for password protection to prevent any unwanted visitors from viewing shared content.
Ease of use is Dropbox's main selling point, along with a pleasant interface and simple, smooth-running processes. Unless you're concerned about online privacy, it's a great choice.
Check it out by following the link below!
2 – 18GB free trial
---
2nd place
GoogleDrive
4.5/5
PROS
Excellent free plan
Lots of sharing options
Great for collaboration
Easy to use
CONS
Poor security
If you've already got a Google account, using Drive is simplicity itself. Just log in, and you'll get an automatic 15GB of free storage, along with the capacity to store and create documents, as well as sharing them.
File sharing with Google Drive is a more flexible affair than it is with most providers. You can not just share both files and folders by generating a public link or granting read or write access to specific people, but also make changes to documents in real time, work on a single file with multiple people, and to auto-save all of the changes you make.
There are a few disadvantages – primarily that things slow down considerably when multiple people work on the same document, and also that there's virtually no encryption on offer, meaning that your files are wide open for anyone to peek at. If you're more concerned about speed, convenience and plenty of file sharing options, however, Drive might just be the perfect solution. Click the link to learn more.
---
3rd place
Syncplicity
4/5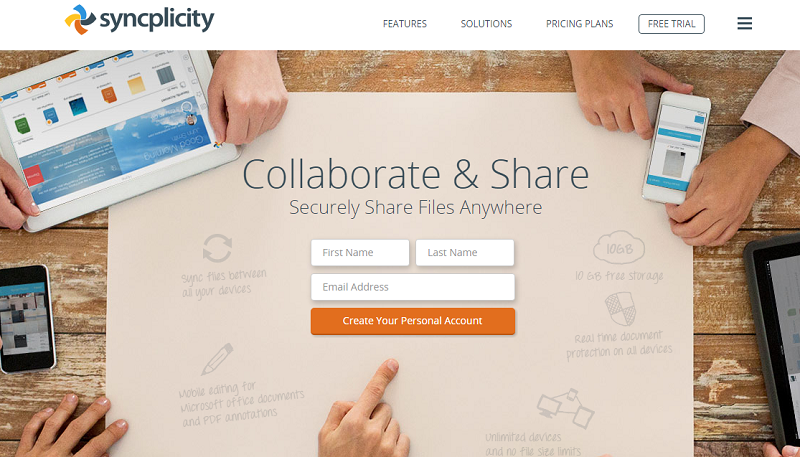 PROS
Lots of sharing options
Easy to use
Good basic features
CONS
Maximum 100GB personal plan
Limited advanced features
Syncplicity offers the full range of file sharing options, including the ability to grant access to individual files or full folders, as well as control whether other users have editing permissions, or if your documents stay read-only.
What's more, once other people have access to a folder, they can also add content of their own, and share access in turn. If that sounds like it could get a bit out of hand then never fear – the original creator always has ultimate control, with the ability to remove access or change permissions. You'll also be the only one able to delete anything – so you can rest assured that your data will stay safe.  
Syncplicity also provides other standard but well-executed backup features, with easy file transfers and a good free plan. Click the button below to explore the options for yourself!
---
4th place
Bitcasa
3.7/5
PROS
Simple and intuitive to use
Quick and easy file sharing
Pleasant interface
Good security
CONS
No file versioning currently available
Although Bitcasa has had a few issues over the years, it remains an excellent program, with easy-to-use software, good security and some very strong features – file sharing amongst them.
You can share Bitcasa files by generating a password-protected link that's sent to your intended recipient by email, or by creating a public URL that can be posted anywhere. Alternatively, you can also invite friends, family or colleagues to join a share group, allowing them to view not just individual files, but entire folders. If you want some outside input then you can set read or write permissions for other participants, safe in the knowledge that Bitcasa will hang on to the original version of your file – just in case
On top of easy file sharing, you'll also get simple file transfers and good customer support. We think Bitcasa is well worth a second chance, so why not sign up today!
---
5th place
SpiderOak
3.4/5
PROS
Excellent security across the board
Some of the safest file sharing available
Good range of features
CONS
File sharing is slow and complicated
Using SpiderOak isn't the most convenient way to share files, but it's definitely the most secure. End-to-end encryption and a zero-knowledge policy that ensures SpiderOak will keep your files safe during storage and transfer, with plenty of privacy measures applied to file sharing, too.
All file sharing takes place using SpiderOak's ShareRooms, which are secure spaces for you and those you invite to exchange documents. While other participants won't have to sign up to SpiderOak to use ShareRooms, you'll all still have to successfully navigate through several layers of security (including providing a valid ID and password) in order to to log in and view shared data. It may not be quick, but it's certainly thorough, and great if you want to exchange confidential data.
As well as file sharing, SpiderOak also offers a solid range of features, including automatic backups and unlimited versioning, and offers 30GB for $7 per month, 1TB for $12 per month, or 5TB for $25 per month. Follow the link to check it out for yourself!
Our criteria
Here at BestBackups, we want to help you find a backup provider that you'll be happy with long-term – one that not only offers great file sharing options, but that does a great job of everything else too. As a result, we've chosen our top-ranking providers based on their features, usability and value for money, and done our best to let you know where their strengths and weaknesses lie so that you can make a fully informed choice.
Conclusion
File sharing is a seriously useful tool for getting by in the modern world, and we believe that these providers all do an awesome job of it. Whether you're looking for simplicity or security, there's a backup out there for you – and we hope that we've helped you to find it!
5 Best Backups for File Sharing Summary