Summary
Druva cloud storage is an innovative company with three major objectives: secure file sharing, team collaboration and data loss prevention. To facilitate achievement of those objectives, Druva provides two major service categories, each containing multiple plans for a wide variety of solutions. The On-Premise plan can be configured to your individual server, and both plans accomodate the size of company or team and offer individual pricing. Druva inherits Indian roots in its vision and management while implementing valley-centric corporate culture, and the company strives for a global market presence. It provides world-class technical and commercial support to more than 1300 multinational customers across 46 countries. Among its multinational customers are NASA, Bechtel, Emerson, DHL, General Electric, and other industrial giants to name a few. Druva has achieved a multitude of prizes and accolades for its world class cloud storage services, which are clear indications of its industrial grade services on the market place.
Introduction
Five years ago, a visionary management and technical team based in Silicon Valley got together to provide an innovative and exciting data storage and file sharing service to help businesses improve efficiency, coordination, security, and reliability of their data. For this purpose, they devised a comprehensive data backup and file sharing system perfect for the achievement of all key objectives.
The management team strongly believed in the principle of certainty and continuity of data flow and its utilization. Druva is the symbol of certainty in Hindu mythology, and the Druva service-based company emerged from this visionary thinking with a customer-oriented commitment by the company's expert team.
Druva offers plans for small business to large corporations, as well as separate plans for those wishing to run their own servers (inSync On Premise) instead of using Druva's (inSync Cloud). Registration and service management are simple, and the inSync client software is light weight and highly featured.
Plans & Pricing
Druva offers comprehensive and consolidated plans for businesses of all sizes at competitive rates. Its two major service categories, serving those either with on-site servers or those wishing to use Druva's cloud servers, each have three unique service plans. Categories and their subsequent plans are given below.
On-Premise
Customers can use their own on-premise servers to run Druva. Pricing schemes are given below.
Professional @ $2.50/User/Month: 250 Max Users, 2 TB online Storage, Perfect for SMBs
Enterprise @ $4.50/User/Month: 5000 Max Users, 16 TB online Storage, Perfect for Enterprises
Unlimited @ $9.00/User/Month: Unlimited Users, Elastic Architecture, Perfect for global Enterprises
Virtual Private Cloud
Clients may configure and use virtual private servers. Pricing schemes are given below.
Professional @ $6.00/User/Month: 250 Max Users, 15GB/User Online Storage, Perfect for SMBs
Enterprise @ $ 8.00/User/Month: 5000 Max Users, 30GB/User Online Storage, Perfect for Enterprises
Unlimited @ $14.00/User/Month: Unlimited Users, 100GB/User Online Storage, Perfect for Global Enterprises
Features
Simple registration and service operation
Options for both on-premises servers and cloud servers with separate pricing plans
Light weight server and client software
Multiple-device support
De-duplication capable, saving 80-90% storage and bandwidth
Effectively encrypted transportation of data on secure connections
Two-Factor industry encryption level similar to bank lockers, meaning users are unable to decrypt without the unique customer key
High-level physical security from industry leader Amazon AWS, SAS-70 Type-II, strict access control, secure encryption keys, and compartmentalization of customers' data.
Strict authentication and authorization control
HTTPS and LDAPS secure access protocols
High-performance online backup supporting hyperCahe, Client Side Caching, and SSD
Software is capable of recognizing data based upon application; e.g. application-aware capability
Optimized network use and intelligent resources utilization. Octopus engine queries about the status of network parameters such as latency, congestion, and noise. Responds accordingly to produce optimized performance.
Efficient bandwidth throttling schemes and backup auto-start in case of interruption in data backups
Auto-management functions for user profiles, auto updates, and support to mass-deployment function
Unified management across On-premise servers for server, user, and log management
Single Sign-on capability through highly featured SAML platform
Viable pricing schemes for businesses of all sizes
Simple up and down subscription-scaling options
Free trial period without bank info
Word class customer support available around the clock via chat, email, phone and trouble tickets.
Fast turnaround for problem resolution
Support for multiple operating systems and backup agents
High performance remote office server backup capability
In-depth insight into trends and data-use behavior of end users
Highly-advanced reporting alerts and other management tools
Easy, centralized data management of end points
Mobile data security; deletion or modification of lost-device data through Remote Wipe Data function
Lost-device location through the Geo-Locate feature
Mobile access to employee data
Multiple-file version capable for restoration
Constant network uptime or system availability
Security
Druva was developed for business-data security with the understanding that data is a company's mind. Security plays a vital role in keeping business data safe, both storerd and in transition. Druva provides enterprise-class security, including encrypted transmission of data over secure SSL protocol, 256-AES-based encryption, a two-factor encryption/decryption mechanism, and many other protocols. Here is a summary of Druva's security services.
Mission-critical-level security from end to end; data is encrypted with 256-AES coding protocol and then transported through highly secure connections.
Data encryptioin is done through two-factor keying, which means that no single key can decode or decrypt data stored on servers, both on-premise and in the cloud. This mechanism is implemented only in Druva networks and is analogous to two-code bank vaults
Strict access and authentication process with AD
HTTPS and LDAPS protocol access
Industry-grade physical security of data powered by Amazon AWS
Cloud servers located in Amazon data centers, which are certified under many industrial security standards, such as SAS-70 Type-II, Biometric access, surveillance and monitoring systems.
Druva is certified under ISO 27001, PCI DSS, ISAE 3000 Type-I and other organizations
Single sign-on capability implemented for secure data access
Customer Service
Druva customer support can be accessed through live chat, phone, email, and TT systems. With the exception of phone support, which is avaialable at all hours any day of the week for enterprise clients and limited to normal business hours for lesser accounts, support is pretty universal.
Druva's response time for issues is predefined and tracked based on the chart below, and response time takes place according to service impact. For example, not functional will take precedence over a customer training issue, and here again enterprise accounts take precedence over others.
The process (Sign-up & Install)
One of the most exciting features of Druva's service is its simplicity and ease of operation and maintenance. The inSync data backup and file sharing software operates through client and server communication with simple, integrated management tools, and getting started with Druva and its client software is virtually effortless. From start to finish shouldn't take the average person more than 20 minutes.
To get started, click Try it Free located at the top right of Druva's home page, as shown in the above figure. Go to the free trial for your plan of choice
Fill in your information and submit
Login to your email account and find the message from Druva as shown in the following figure
Click the Download inSync Professional link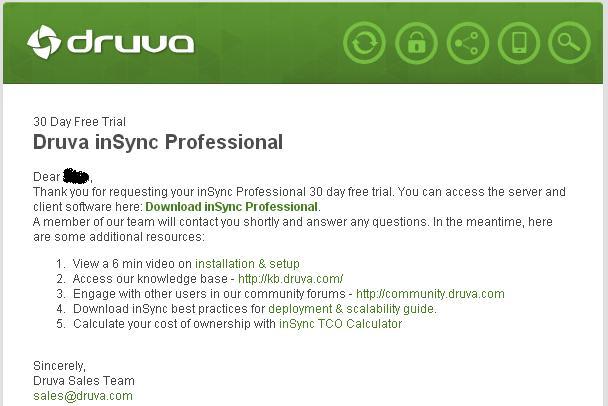 Or choose one of the five numbered options above for tutorials and other tools
Download both inSync server and client software for your machine's operating system
You can also download client setup for inSync mobile devices
After you've downloaded server and client software, next you need to install the server
Choose a destination folder
Installation status will become visible
Finish or choose to view the administration guide
Next, configure your inSync Server software with the credentials, which will be used for backing up, sharing, accessing and transporting data within your teams.
You will need web console details like TCP port, admin name, email ID and admin password, as shown in the following figure.
Select Express Configuration for now and worry about advanced configuration as per requirements later on.
Server Configuration
Follow the five steps listed here to setup your server
Dashboard
Once you've configured your management, server, and data-base information, you will be taken to your Dashboard, as depicted in the following figure.
Here you can work and manage resources through different options such as Backup, Restore, DLP, Share, Analytics, and Manage.
In the Manage menu from the Dashboard toolbar in the upper right, you can work with profiles, users, devices, storages, server activities, alerts, reports, diagnostics, and server settings
Manage Profiles can be used for server data management and synchronization with online storage, etc.
To create a new profile click Create New Profile as shown in the above figure and fill in required information as shown below.
Configuring your first profile is one of the final steps before data management with Druva's inSync server
Client Software Installation
Next you need to install the client software
Run the setup from your previous inSync client software download, which will present you with the following interface
Select the location you would like the inSync software to end up
Once installation is complete, click Finish and you're done
To activate the inSync client software input the server URL, your email address and password
Conclusion
Druva is especially suitable for medium and large size enterprises due to its tailored service of these companies. Price plans and customer service are fair for all, but suited most beneficially for large accounts. It also possesses amazing security of its networks, systems, and data transport. Druva delivers on its goals of helping businesses increase productivity and efficiency, and is therefore highly recommended.