Summary
Diino is a perfect data storage hosting and backup services provider for both personal and business use. There are many great reasons for its perfect services, including:
–          Simple-to-use web interface
–          Simple registration
–          Simple, light weight, and efficient Diino client application
–          Highly secure data hosting with full freedom and control to handle it.
–          Highly competitive market prices
–          Support for multiple operating system based devices like android smart phones, PC and others
Highly recommended for personal and small business users; it can also be perfect for reselling business.
Introduction
Diino was established in 2005 and provides data backup services to more than 1.5 million users worldwide for personal and business use. It supports multiple operating systems and platforms for managing data from different devices, including Windows, Linux, OS, Android and others. It is capable of backing up data for PCs, laptops, android mobiles, iPhones, and set top box or STB. Prices are competitive and both the process to use and mechanism to register are very simple.
Located in Stockholm, Sweden, the company offers great plans with affordable prices, high network availability, great customer support, secure transmission, and reliable security of data. Diino uses state of the art data centers that house first-rate equipment, air conditioning, and high-quality power systems to provide the most efficient and reliable service. It also has professional and industry-grade partnerships with giant ISPs and telecom carriers to provide uninterrupted communication with its servers through redundant fiber connectivity.
Plans & Pricing
Diino offers two premium plans and a free 30-day trial of its Private Plan. Upgrading is simple, and they also offer reseller hosting plans with the help of white-label technology. The major pricing schemes are summarized below.
Free Trial Plan – Free for Trial period of 30 days: Free trial plan includes 100GB of virtual disk space, unlimited back up and 25GB/day data transfer.
Private Plan – Starting from $49/Year: This includes 100GB storage, unlimited backup, 25GB/day data transfer and $19/year for every 50GB additional space.
Business Plan – Starting from $249/Year: This includes 500GB storage, unlimited backup, 25GB/day data transfer and $29/year for every 50GB additional space.
There are also flexible options within plans for increasing resource limits. Scaling up is easy and affordable.
Features
There are many key features of Diino that make it unique. First, it provides services based on a simple data-management formula that enables normal users possessing limited computer knowledge to fluently work with the data correctly. It provides data management on the virtual drive through either the website or the downloadable client software. Service management is simple through the Diino proprietary client software, which gives you multiple options to manage your data in the cloud. Diino's main features are listed below.
Flexible, simple-to-use services.
Automatic data backup from any designated system
Simple backup schedule settings.
Easy data management mechanism for all types of files stored in the cloud by either the client software or through the website
Easy file sharing to any person or company in the cloud.
Highly secure transportation of data across the public network by the help of SSL encryption and other security mechanisms.
Data protected by MacAfee
Capable of file-publishing in slide-show format directly from the web browser.
Simple, light-weight data-management software
Free one-month service trial
24/7 basic customer support and services through email, telephone, and postal mail
Guidance-as-you-go articles availabe on the website
Plans suitable for a wide variety of users in personal and small business segments
Simple web interface
Security
Diino believes in the best possible security and integrity of its customers' valuable data. It maintains high security, both physically and logically, meaning it abides by the best industry standards for infrastructure and data-center security procedures. Its state of the art data centers are equipped with the latest fire and hazards security measures, ensuring  industry-grade physical security to its servers and storage drives.
Diino also follows strict cyber-security measures and encryption protocols to ensure that customer data stays completely secure and integrated. It uses the latest antivirus, identity theft protection software and other protection applications to safeguard customer data.
It implements world-class enterprise-level security Macafee software, firewall security policies, an access-control list at  data centers, and point of presence across its entire network. The transportation of data over public networks is normally encrypted and can't be interrupted or interpreted by hackers while in transition.
Customer Service
Diino has clearly-specified turnaround times for customer support and offers variable SLA.  While using the trial version of Diino, customer servie turnaround time can be as long as 72 hours, for the Premium Private plan it's within 24 hours, and for the Business plan, answers come in 90 minutes or less. I received a response in less than 110 minutes, which was much better than the specified turnaround time.
Diino provides support through multiple means, which are given below.
Online articles relevant to the current web page
Email queries
Phone calls within the country, but only in special cases
Customer service is available around the clock, seven days a week. The following is a snapshot of my request for technical support to Diino's customer service team, along with their response.
 The process (Sign-up & Install)
Diino's Installation process is simple and systematic. It provides on-page guidelines for easy registration and for almost every other action or activity you want to perform. Show/hide information means you can click on it if need be, click again to hide, or ignore the information all together if you already get the gist. It is one of the most useful features of Diino and I have not seen the option on the websites of many other companies. It is an instant help in completing the account setup and use process. Illustrated below is a simplified process to get started with Diino.
REGISTRATION
On the front page of Diino's website you'll find plan details, which is also available on most every page of the site. Click the Choose button next to your intended plan.
The following registration interface will appear, with the corresponding plan you chose highlighted at the top of the page.
Registration is that simple. You will arrive at the control panel page of your account as shown in the following figure.
There are four information areas on this page and 6 tabs as shown in the figure.
You can upload  files, read messages from shared-data users, get details about current data-use,  and also setup the backup mechanism for your computer from this front page.
Go to the File tab or click on Upload your first file
A new window will appear as shown in the following figure that allows options to Upload files, start a New folder, or read about storing, sharing and modifying files
Select New folder to create a new folder for files, or simply upload files by clicking Upload
A pop up window will appear from the  Upload button as shown in the following figure.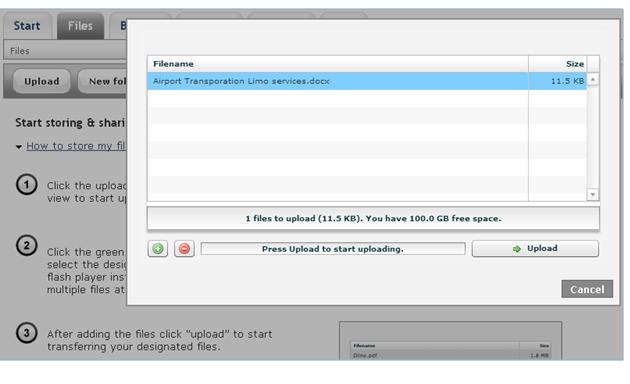 Click the green add button and browse the file you want to upload and then select Upload with the green arrow
Your files will be uploaded and stored in the cloud storage as shown in the following figure.
In this way, you can upload as many files and data manually as you like within the limits of data storage
Next, you need to install the client software for automatic data backup. Click the Backup tab on the main page of your account as shown in the above figure.
Choose the operating system installed on your machine, as shown in the following figure.
There is systematic guidance and help available on this page to guide you through the process
Click for java installation as shown in the first step if you do not have java installed on your computer.
Click Download Diino for Windows (it will be different for other OSs obviously) and the following popup window will appear.
Click on Run and the Diino 5 client software will automatically install
Once the Diino client application is installed, you can  login
The front page of your client software interface will appear
The user interface makes cloud data-management simple
Settings
Administrative activities can be done through the Settings tab found on your front-page interface as shown in the following figure.
You can change your password, email address, and other information
Account
Upgrading your account, checking existing information, and deleting your Diino account, are also simple processes taken care of from the  Account tab
Help
There are many Help options available for system issues, data-related matters, billing, and many others.
You can read up on technical questions and procedures and frequently asked questions from the Help page. You can also lodge a query or trouble ticket for any problem beyond your capability
Conclusion
Diino cloud storage is perfect for both small businesses and for individual home-users. The website is very simple to use and provides plenty of on-screen instruction. It's perfect for those people with limited computer, websites, and cloud backup knowledge.
The pricing scheme is affordable with an additional option to increase your plans at very reasonable prices. The client software is compatible with most machines, and customer support is timely. Network availability and data-access speed is perfect. I highly recommend this service.